Who we are…
founders
executive commitee
major achievements
government projects undertaken
FOUNDERS
Audrey Pinto has been working on child-related issues for over two decades.
Being actively involved in the field of child protection she was appointed the Chairperson of the Child Welfare Committee- North Goa (2011-2014, a member of the Goa State Commission for the Protection of Child Rights (2014-2017), and a member of the Child Welfare Committee, North Goa (2017 – 2022).
Presently, she is a member of the panel that assists the Juvenile Justice Board with preliminary assessment reports of juveniles committing heinous crimes. She also assists the Victim Assistance Unit for the State of Goa and the One Stop Centre, North Goa.
Adv. Emidio Pinho has a Master's degree in Law and has been working with survivors of abuse since 2005.
In recognition of his efforts in the field of child welfare, he was a recipient of the National Award for Child Welfare 2014, from the Late Mr. Pranab Mukherjee, former Hon'ble President of India
He is presently the coordinator of the Victims Assistance Unit for the State of Goa and the Sakhi One Stop Centre, North Goa.
He has enhanced his skills and expertise with Art therapy, and clinical hypnotherapy to facilitate his work.
---
EXECUTIVE COMMITTEE

Marian Pinheiro
President
Dr. Marian Pinheiro, A professor of Law and an education consultant.
Profile: Former Principal of V. M. Salgaocar College of Law, and Dean, Faculty of Law, Goa University. Served in Goa from 1996 till 2012 retired on reaching superannuation.  He was invited to be the first Vice President (Vice Chancellor) at Raffles University, Nemrana, Rajasthan. He later took charge as Director, Lloyd Law college, Greater Noida U.P. and after 2 years was invited to be the Principal Director, Vivekanda Institute of  Professional Studies, Pithampura, Delhi. Dr Pinheiro returned to Goa in May 2016, to lead a retired life. He is now an education consultant and on invitation he conducts faculty development programmes for colleges across India. Dr Pinheiro often writes on socio-economic issues in Goa in the local newspapers.

Lancelot Joseph
Vice-President
Executive Editor at Business India
Lancelot Joseph is a prominent and well-respected name in the world of journalism. He has been associated with Business India since 2004 and is now designated as an Executive Editor. His specialization and strength have been balance sheet and equity analysis, and equity and commodity markets.
He is passionate about the work taken up by SCAN – Goa.

Andryusha Pinho
Secretary
Ba.LLB, LLM, PHP
Dr. Andryusha A. D'Costa e Pinho: She is working as an Assistant Professor of Law. She practised in Civil and District Courts in Goa. She worked as an Assistant Professor of Law at G.R. Kare College of Law from 2008 – 2014. She then joined V.M. Salgaocar Law College as an Assistant Professor of Law from 2014-2019. She holds a Ph.D. in Law and her research is on the topic "Evolution and impact of Best Interest Jurisprudence on Children's Rights with specific reference to the State of Goa." She has also worked as an Academic Counsellor for IGNOU Law Study Centre.
Her subjects of expertise are Civil Procedure Code, Criminal Law, Law of Torts, Law of Evidence, Property law, Legal Language and Legal Writing and Drafting of Pleading and Conveyance. She was an Associate Director of the Legal Aid Society for the academic year 2018-2019.
She co-authored a book titled Child Abuse, Law, Practice and Prevention published by Eastern Book Company. She drafted a module on the Rights of the Child in the year 2016 for the Goa State Commission for Protection of Child Rights, Government of Goa. She also assisted in Research for E-Content Module writing on Scheduled Caste and Scheduled Tribes for a paper titled "Access to Justice" under E-PG Pathshala, UGC. She contributed a chapter in the book titled "Access to Justice and Legal Aid in India," edited by Dr. Bharti  Yadav published by National Law University Delhi Press. She has presented many papers at national and international conferences.

Marie Finch
Member
A versatile senior with an infectious enthusiasm for life is what best describes Marie Finch. She has been economically independent from a very young age, holding key positions in both national and international organizations. She has lived in Dubai for a large part of her adult life, three decades of it being dedicated to GlaxoSmithKline Pharmeuticals. She enjoys socializing and spends her leisure time playing games that stimulate her intellectually. Strongly independent, she loves giving of herself to ensure a better tomorrow for the less privileged.

Dr Kiran Kerker
Member
A practicing homeopath by profession, and a karate, yoga, self-defence instructor by passion. He is a Vedic math tutor and has conducted workshops on stress management, goal setting, time management and nutrition  in schools for students and teachers, and for corporates.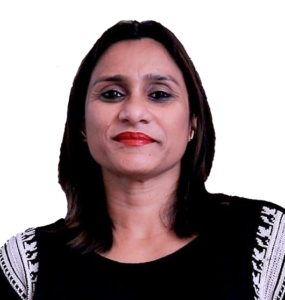 Sheryl Afonso
Member
Sheryl Afonso is a qualified Clinical Nutritionist, and an assistant professor. She is associated with Goa's famed chain of gyms – Norbert's Fitness Studio. Passionate about education, She presently heads the Post Graduate Department of Food Technology at Carmel College, and has been an Asst Professor in Nutrition & Dietetics since the year 2000. She is passionate about writing and sharing her knowledge.

Ajit Martis
Member
Ajit Martis is a Post Graduate in Management from IIM and has worked in Senior Corporate Positions in leading organisations like Reliance Industries, Marico Industries and HSBC bank for over 20 years. He is now a co-founder of a startup brand in the sports industry called Qiddo sportswear for juniors.
Based in Mumbai, he loves reading, cooking, travelling, and keeping fit. His passion is mentoring youth just like he was guided. He is part of the Archdiocese of Mumbai youth mentoring program called Take Charge. He has also spearheaded several crowd funding programs to raise funds for higher studies amongst the youth. He is a big fan of SCAN – Goa, the cause as well as the impact it is having on the society in Goa.

Rajesh Yokund
Treasurer
Rajesh Yokund, has a degree in Bachelor of Commerce. He is a businessman and is the proprietor of Mallikarjun Enterprises. He has been associated with SCAN – Goa since its inception due to his interest in the cause.
---
major achievements
Child Code for Goa Police: The Goa Children's Act 2003 mandates that the police should have a Child Code. A draft Code of Conduct was submitted to the DGP for implementation.
Review of Goa Children Act 2003: The proposed amendment to the Goa Children's Act 2003 was submitted as requested by the Goa State Commission for Protection of Child Rights (GSCPCR) and Directorate of Women and Child Development (DW&CD).
Circular issued by Directorate of Education: Parents conveyed their concern about the weight of their children's school bag. This was also confirmed by Dr. Sushma Kirtani, paediatrician and former Chairperson- GSCPCR. A circular was issued to reduce the number of books that children have to carry and instruct schools to keep a check on the weight of the school bag.
Internal committees within schools: There were several cases of child sexual abuse that were not reported to police authorities by the school management. Through our representation a circular was issued by the Directorate of Education banning internal committees in schools from taking up cases of child abuse. It was made mandatory to report such cases to the police.
Child protection policy: The All- India Football Federation (AIFF) requested a Child Protection Policy for the Coaches, Associations and Federations. We drafted a policy incorporating the ethics and procedures of reporting abuse and guidelines to be followed.
Juvenile Justice Committee for Goa (High Court Level): As requested by the then acting Hon'ble Justice of Bombay High Court, Justice Shri V. M. Kanade, a Juvenile Justice Committee was constituted for the State of Goa. It was headed by Justice Shri. R. M. Reis and Justice Madam Anuja Prabhudessai.
Two Ready Reckoners for law enforcement agencies: These were printed in collaboration with the Goa State Legal Service Authority- High Court, Directorate of Prosecution, and Goa Police. They were released by Justice Madan Lokur, Supreme Court of India. One Reckoner included the offences relating to children and the second, specifically to children in conflict with law.
SOS Women and Child-Goa, mobile application conceptualized by SCAN- Goa: Was released on 14th November 2019 by former DGP of Goa Police, Late Shri. P. Nanda. It was done in collaboration with Goa police, Directorate of Prosecution and the DW&CD. The mobile application is available for general public on Google Play Store.
Appointment of a full -time President for the Children's Court: Until 2014, a full- time President was not appointed for the Children's Court though it was set up in 2004. We took up this issue with the Government. With the intervention of the former Deputy Chief Minister, Late Francis D'Souza who acted upon the letter written by us, the Children's Court now has a full- time President.
Transfer of department for the medical examination of rape victims: Initially, the Forensic Department comprising only male doctors conducted the medical examination of female victims. The charge of conducting medical examinations was now transferred to the Department of Gynecology. This was a major reprieve for female victims.
Medical Board to conduct ossification tests: A forensic doctor conducting a medical examination and submitting the report on the child's age was contrary to the mandate of the Juvenile Justice Act and Rules. We took up this issue with the Dean of GMC and a Medical Board was constituted to conduct ossification tests. It comprises doctors from the Forensic, Radiology, and Dental departments.
Separate ward for children at Institute of Psychiatry and Human Behaviour (IPHB): Children were admitted with adults at the IPHB, Bambolim. With our intervention and directives from the Hon'ble High Court of Bombay at Goa, the IPHB now has a separate area exclusively for children.
Rape Kit formulated: We took up the issue of standardising the examination of rape victims. The Departments of Forensics and Gynecology formulated reporting formats for a rape kit and a detailed protocol was submitted to the Directorate of Women and Child Development.
Compensation applied for victims of abuse under the Goa Compensation Scheme: Since 2017, we have filed over …. applications before the Collector claiming compensation on behalf of the victims.
Case Conferencing: Periodic follow-up and conferencing are conducted to know the rehabilitation of the victim and the status of the case. This has led to faster filing of charge-sheets by the police before the Children's Court.
Going to Court Programme initiated: On a rotation basis, 30 students of the V. M. Salgaocar Law College are deputed to the Children's Court. They assist victims/witnesses who come to the Children's Court and Juvenile Justice Board.
Review of the Goa Children's Act 2003: Suggestions for changes in the Goa Children's Act were submitted, keeping in mind the legislations, i.e., Protection of Children from Sexual Offences (POCSO) Act, Juvenile Justice (JJ) Act 2015, Child and Adolescent Labour (Prohibition and Regulation) Act, 1986.
Two Public Prosecutors deputed at the Children's Court: Through a representation for additional help, the Director of Prosecution deputed an additional, full time Public Prosecutor at the Children's Court for the State of Goa.
Constitution of a Juvenile Police Unit in each police station: With our representations made to the Chief Secretary and Goa police there are now three officers designated in each police station. Earlier, it was only one police officer designated as a Juvenile/Child Welfare Officer at each police station. Often this officer was off duty when there were cases reported relating to children in conflict with law.
Preliminary Assessment Board: The Juvenile Justice Act 2015 mandates a preliminary assessment report in cases of heinous crimes. A representation was made to the Directorate of Women and Child Development. A team was notified to conduct preliminary assessment of adolescents of 16 – 18 years who commit heinous crimes.
Issue of increase in number of teenage pregnancies: A representation was made to the Director of Education, making it mandatory to create awareness and have gender sensitisation programmes for children in schools.
Victims of abuse assisted at the police station: Only in cases of grave sexual assault are the victims brought to the Centre. Otherwise, we reach out to the victim at the police station or residence. This helps in quicker investigation as we can accompany the victim to the scene of the offence. It also provides emotional support to the victim.
Identified vulnerable areas showing increase in cases of abuse: We were able to identify areas which required our intervention. Programmes were conducted in schools and Village Child Committees wherein we discussed the applicable laws and how children can keep themselves safe.
---
GOVERNMENT PROJECTS UNDERTAKEN
1. Victim Assistance Unit (VAU)
Setting up of these Units are mandated under the Goa Children's Act 2003 to provide sustainable and comprehensive services for abused children and their families. This is to be done in partnership with the community, the state government and non-government agencies under a state-wide multidisciplinary child protection system.
As the VAU was not set up for over a decade, in the interest of the children, we took the initiative to start this unit for the State. Through a government notification the VAU was finally set-up in April 2014. One of our major achievements was that we created a dialogue between the concerned departments.
We have a dedicated team that functions 24×7. The VAU works with all children under the purview of the criminal justice system. Victims now do not have to go from one department to the other; all procedures are carried out in one place. We record the child's statement as well as the witness (if any), and socio-legal counselling is given to the victim and the family. In some cases, if the parents/guardians are not supportive, a member of our team accompanies the child to the scene of offence.
The follow-up team conducts a home visit when required and periodic telephonic follow-ups are done. Our mobile numbers are shared with the victim and the family to get in touch with us if needed.
The VAU has worked independently and without any financial assistance from the government or private source.
2. One Stop Centre (OSC)
Looking at the achievements of the Victim Assistance Unit, the Department of Women and Child Development, Govt. of Goa, appointed SCAN-Goa to set-up and run a temporary One Stop Centre for Goa. This has been functioning since November 2015 to provide support and assistance to women facing violence. The police also ask for assistance from OSC during rescue operations in cases of Immoral Trafficking Act.
Emidio Pinho and Audrey Pinto have undergone training at NIPCCID, Delhi and are also certified as Master trainers for One Stop Centre.